https://www.postguam.com/news/local/grieving-parents-face-hurdles-as-they-seek-health-care-accountability/article_8188df1e-9626-11e9-9929-3f8e2b060cfc.html
Grieving parents face hurdles as they seek health care accountability
1 of 2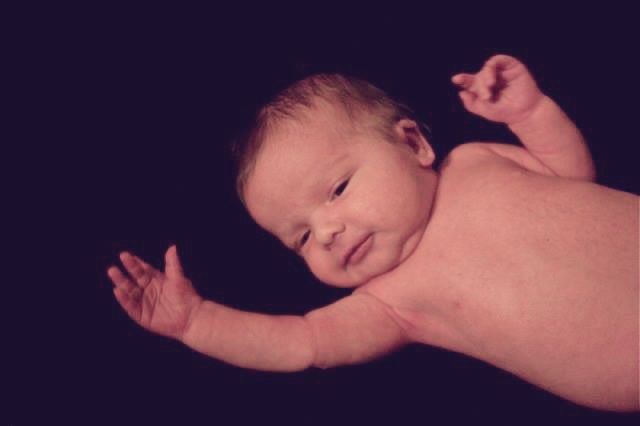 FIVE WEEKS OLD: Baby Aiden, the 5-week-old son of Michelle Green and Leonard Quaile, shortly before his death in 2011. The couple is suing TakeCare Insurance for malpractice in relation to the death. Photo courtesy of Michelle Green
ASHER: Asher Lubofsky is shown in a social media post by his father, David Lubofsky. Asher Lubofsky died on Oct. 31, 2018. Photo courtesy of David Lubofsky
Editor's note: This is the first of a two-part series on the challenges of holding medical practitioners accountable under Guam's medical malpractice law.
Aiden Quaile was born on Aug. 26, 2011, to parents Michelle Green and Leonard Quaile. The boy was 8 pounds and healthy, save for a mild case of jaundice, which was treated at the hospital. He was Green's firstborn.
About a month later, Aiden suddenly fell ill. He was taken to the FHP Urgent Care Center. His mother waited more than an hour before seeing a physician's assistant in the examining room. She was told Aiden had simple colic, excessive crying that normally doesn't indicate health issues, according to court documents.
But Green wasn't convinced. She said she begged the physician's assistant to call the hospital or an ambulance. The mother contends the clinic staffer did not. It had been nearly two hours.
Green drove to Guam Memorial Hospital herself. Hospital staff confirmed Aiden was not suffering from colic - he was in respiratory distress. Green held an oxygen mask over her son but a deep blue encroached on the baby's lips and nose.
She screamed. Staff rushed in. Aiden was taken away.
"I insisted on seeing him again and they told me I had to say goodbye to him," Green told the Post. "So I just held him."
Aiden died on Oct. 1, 2011, a few hours after the baby was brought to the emergency room. His parents would file a lawsuit in federal court years later, raising negligence claims against health care providers and bringing into the spotlight Guam's three-decade-old Medical Malpractice Mandatory Arbitration Act.
TakeCare Insurance has previously stated the negligence wasn't on TakeCare's clinic, but rather on the baby's mother for her alleged failures to follow the instructions of health care providers, describe the child's health history, and timely follow the course of treatment and care indicated by health care providers.
There has to be accountability
The suit has since fizzled into settlement but two separate claims have emerged in the local court, both involving grieving parents, allegations of medical malpractice, claims for millions of dollars in remedy, and challenges to the constitutional validity of Guam's mandatory arbitration act.
"I'm really glad that the law is receiving attention now," Green said, speaking to the Post in early June. "Nobody really wants to sue doctors but these cases do have a deterrent effect. And when you go to this level ... there's actually no accountability. This is dangerous. This is unacceptable. There has to be some accountability."
Guam law forces arbitration proceedings, an out-of-court process to settle disputes, in medical malpractice cases. The costs, which could reach tens of thousands, must be born by the parties. A party can take the case to court afterward, but it is that initial financial burden that opponents say imposes an unreasonable hurdle on individuals seeking relief.
Most states have some form of prelawsuit mediation, screening or review in medical care disputes - a safeguard against overtaxing courts with frivolous cases. Several states allow parties to enter into arbitration but very few require arbitration, and seemingly none as strictly as Guam.
Maryland, as an example, generally requires arbitration but this can be waived by either party.
Green characterized Guam law as "uniquely draconian" compared to other jurisdictions.
"No other jurisdiction puts the financial burden on plaintiffs to pay for three (American Arbitration Association) arbitrators; Maryland compels arbitration, but it is paid for out of a state fund. Other states have presuit mediation or other alternative dispute resolution requirements, but none preclude a fair determination of a medical malpractice claim like Guam's," she wrote.
Frustration
When Green, a tax attorney, first attempted to challenge the law on Guam, she encountered few fellow lawyers who would take up her case.
"I was literally laughed at. Nobody thought there was anything wrong with the Medical Malpractice Act. That it was just cut-and-dry," Green said.
She would find representation in attorney William Fitzgerald, but the pair later parted ways, leaving Green to litigate the federal lawsuit on her own.
"I was at this crossroads. The lawyer in me wanted to go to trial, get the ruling, go to the 9th Circuit and appeal the law if that's what it took," Green said.
But she was concerned that a loss in the District Court could justify turning away people seeking to challenge the law. Green said she believed settlement would leave that door open. A $225,000 settlement was reached in Aiden's parents' malpractice claim.
"The next mommy who walked into (a lawyer's) office, it could just be another thing they could say, 'Actually the court just ruled on this. No, no, no you can't do it.' I felt like taking a settlement would at least might get the ball rolling with the other lawyers. That this argument might have some traction," Green added.
Challenging the law
One of the lawyers she initially approached was Robert Keogh, the same lawyer who is now challenging the mandatory arbitration act in the local court.
Keogh could not speak about his interactions with Green, adding that his two new cases are separate circumstances. But Keogh has challenged the act before.
"I can think of two times that I challenged it in the Superior Court of Guam over the last 15 years and both times the circumstances were such that the court disagreed with us," Keogh said. "On one of the cases, they sent it back for us to get a deep discount from the American Arbitration Association, which they gave us. The clients I had then could afford the arbitration, so they did. Now we have clients that cannot afford it. And we're going to challenge it again."
The two cases at the local court involve the death of a newborn and a young boy.
Parties in the newborn case will explore mediation, according to court documents, while the parents of 5-year-old Asher Lubofsky, are pushing through.
The defendants in the case stemming from Asher's death, the Guam Seventh-day Adventist Clinic and others, are asking the case be halted pending arbitration — allowable by the mandatory arbitration law.
There have, in fact, been multiple unsuccessful challenges to the law in the Superior Court, according to the defense.
But the constitutional and Organic Act challenges have not yet been decided by the Supreme Court, Keogh countered.
https://www.postguam.com/news/local/challenging-medical-malpractice-on-guam/article_a46c7f4c-9e17-11e9-9441-5388a0865076.html
Editor's note: This is the second article in a two-part series on the challenges of holding medical practitioners accountable under Guam's medical malpractice law.
There are two cases at the Superior Court of Guam that challenge the constitutional validity of a law that makes it difficult, some have said, to hold the island's medical professionals accountable. And while the Supreme Court hasn't weighed in yet on the law, these two cases may be what pushes the door open.
It isn't the first time that Guam's Medical Malpractice Mandatory Arbitration Act has been challenged. Part one of this series explored the law and the stories of grieving parents who contend it. In a medical malpractice case, the law forces arbitration proceedings, which is an out-of-court process to settle disputes. The costs, which could reach tens of thousands of dollars, fall on the parties - which in recent cases are the parents of children who were seen and diagnosed by doctors before they died. The financial burden is an unreasonable hurdle and a deterrent for individuals who are seeking relief, challengers say.
The Superior Court of Guam has ruled in favor of the law when challenged previously. However, Attorney Robert Keogh, who has a history with this act, said this decision, as well other unfavorable decisions, are not binding.
Keogh has two cases pending at the Superior Court of Guam challenging the constitutional validity of the law as part of negligence claims against health care providers.
Keogh told The Guam Daily Post in mid-June that a Superior Court judge is bound by the Supreme Court, and not the decisions of other Superior Court judges. Depending on the outcome of his current cases, the Supreme Court may be asked to decide on those questions, Keogh said. For Richard Pipes, there is no question that the law violates the Organic Act of Guam, the supreme law on island.
Pipes was one of the attorneys who prevailed in the landmark Awa v. GMH case that went before the 9th Circuit Court of Appeals. The original mandatory arbitration act was struck down in that case.
The 9th Circuit found the original law, enacted in the 1970s, unintelligible and inconsistent in requiring mandatory arbitration while at the same time preserving the right to a jury trial.
The current law, enacted in the 1990s, no longer contains language that expressly called for the right to jury trial. The new law contains provisions for a "trial de novo" at the courts - a trial that takes place as if it were the beginning of the dispute.
The Organic Act expressly provides protections found in the First to Ninth Amendments, including the right to trial by jury in civil cases in the Seventh Amendment, Pipes told the Post.
"However, the MMMA carves out a class of civil cases (medical malpractice cases) which causes plaintiffs to go through extreme, very costly, and time-consuming procedures before such cases can even be filed. These limitations clearly obstruct a citizen's right to a trial by jury in a civil case," Pipes said.
Despite the amendment, the law is patently similar to its predecessor. Michelle Green, a mother and tax attorney who challenged the current law at the District Court of Guam, points out the contradiction.
"The 9th Circuit was clear in its holding: a tort reform law that requires mandatory arbitration, and also guarantees parties the right to a new trial, violates due process rights and also makes medical malpractice litigation 'more costly and less efficient,'" Green said. "Remarkably, Guam's current law continues to require mandatory arbitration and also guarantees the right to trial — even though those provisions are precisely why Guam's first tort reform law was struck down."
The cost argument
Following the original law's demise, health care professionals on Guam generally stood behind mandatory arbitration as the current law was drafted in the 21st Legislature.
The shortage of doctors on island was noted at the time as well as the need for a mitigating rule on malpractice claims to make Guam an attractive destination for practice.
But the lack of binding arbitration in lieu of jury trial caused concern, and some groups and physicians could not support the measure without it.
Curiously, physicians noted that appealing at the courts — the law today — would only make matters worse by exposing health care professionals to potentially having to defend themselves twice.
Reducing costs was the express purpose of the law.
The legislative committee on health, ecology and welfare, in 1991 stated that a medical malpractice crisis reached a fever pitch in the prior two decades and many insurance companies refused to offer malpractice coverage or have raised the cost of premiums to prohibitive levels.
But that justification falls flat, according to Pipes.
"One of the professed justifications for imposing procedures which obstruct the constitutional right of trial by jury is the supposed 'medical malpractice insurance crisis.' Just like the original MMMA, the amended MMMA mouths the same justification, without any support other than a naked 'finding' that there is such a crisis. The fact is that no such crisis ever existed in Guam and does not exist today," Pipes said.
The pool of doctors on Guam was so small at the time of his lawsuit that no insurance company was willing to offer medical malpractice insurance, Pipes said. There had been so few malpractice cases filed in Guam back then that insurers could not calculate the risk, he added.
Today, insurers earn nearly $1 million on medical malpractice insurance premiums per year, according to records at the Department of Revenue and Taxation. It is one of the smaller insurance categories on Guam.
To opponents, the issue boils down to mandating arbitration first and how the associated costs and risks effectively precludes people from ultimately pursuing legitimate claims in court.
This is a wrong that should have been corrected many years ago, Pipes said.
The Post initially queried lawmakers about their thoughts on the law in April, when a letter was submitted to all lawmakers asking them to review the arbitration act. David Lubofsky, who is now suing the Seventh-day Adventist Clinic and others on behalf of his deceased son, issued the letter.
No senators responded then. This time, there were two.
Sen. Kelly Marsh said she and her staff were reviewing the law. Meanwhile, Sen. Telo Taitague said the issue remains an active topic for her team since receiving the Lubofsky letter.
Taitague said she is reviewing the court decisions and the history behind the law.
"A review of the experiences of other U.S. jurisdictions is also being done. We are taking a closer look at state policies mandating prelitigation screening panels which is the approach found in various states, including jurisdictions with the least number of medical malpractice cases," Taitague said. "This could be a solution for Guam."
Taitague's full comment: "This remains an active topic for my team and I since receiving a letter a couple months ago from Mr. Lubofsky - and your inquiry shortly thereafter. "I continue my research and due diligence to be better informed on the history behind Guam's medical malpractice statute, including court decisions concerning the constitutionality of current and prior legislation. I plan to meet soon with a few individuals for additional information on how and if we should proceed from here. "We are also reviewing white papers (Widener University School of Law's Medical Malpractice Screening Panels: An Update and Assessment) prepared on this topic especially as they discuss due process rights - and are connecting with the authors concerning our questions for possible solutions. "A review of the experiences of other U.S. jurisdictions is also being done. We are taking a closer look at state policies mandating prelitigation screening panels which is the approach found in various states, including jurisdictions with the least number of medical malpractice cases. This could be a solution for Guam."